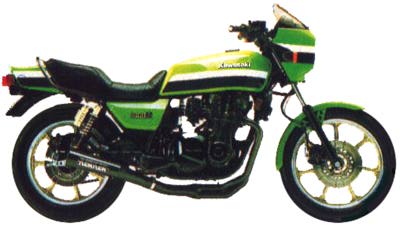 This is a 82' z1000r model



Look at the tank and its stripes and badges for differences. The 2 round gauges for speed and tachometer become a paralellogram mono-cluster doodad display. Its cams were slightly revised and the swingarm is strengthened. Outside the United States, it had a 4-into-2 exhaust and a white base color model was also available.






Eddie Lawson won the AMA Super Bike Championship in '81, so Kawasaki made an out-of-the-box racer with the S1 and and production bike to commemorate the victory. Go to specs about the S1 racer. The racing and production bikes share more things than are dissimilar. They are based on the Z1000J2, but with a KR Kerker 4-1, reservoir rear shocks, oil cooler, and modified brakes and head. Can you spot the error in the next two pictures?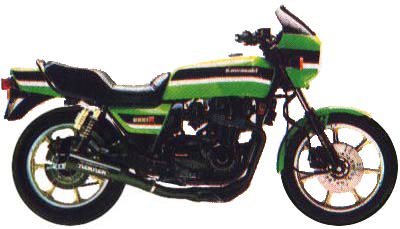 This is a the 83' z1000r model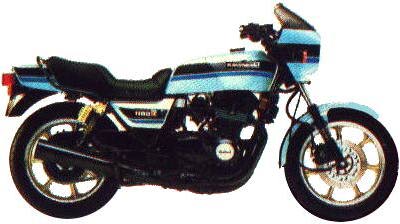 This is another 83' z1000r model





If someone refers to this as an ELR. Same graphics, but it has the 1089cc engine which produces 114PS. Sounds a bit fishy to me; a bike exhaustively designed to be exactly 998cc for production racing doesn't make greater than 10% more power when its size is increased less than 10% without any major head changes, of which there seem to be none. I'll trade one of these with someone with an '82 any day of the week, and you can keep the extra horsepower and weight. This is the goofy European coloring and the dopey 4-2 pipes. I think these marketing people were idiots, but back then the lime green coloring scheme was not popular in many markets. I guess this color is an asquired taste after knowing what it stands for in Kawasaki dominance for several years. Thank the lord the North American market got Lime Green and the KR 4-1 pipe which makes even Thor in Valhalla quiver and shake. Compared to the REAL ELR, these are quite plentiful, though I don't have production numbers on any of these bikes.