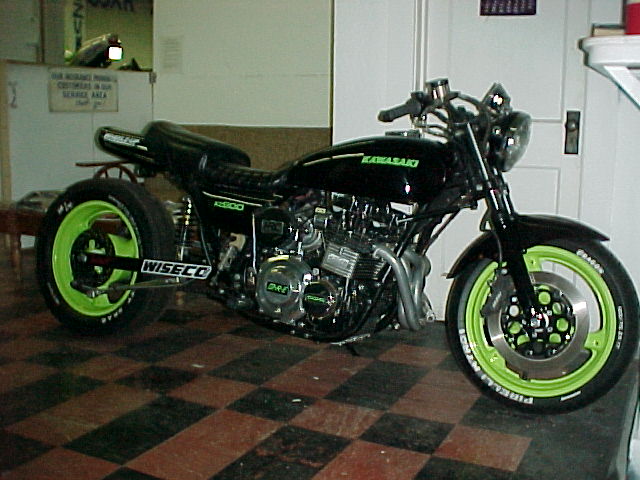 This bike has a 1428 wiseco big block, it has a HRC turbo system, a turbo cylinder head, 8 inches over swing arm, GSXR rims, rotors and calipers, and the suspension has been motified to accept mono shocks
This is a KZ1000 fighter with lots of CBR1000 parts and nitrous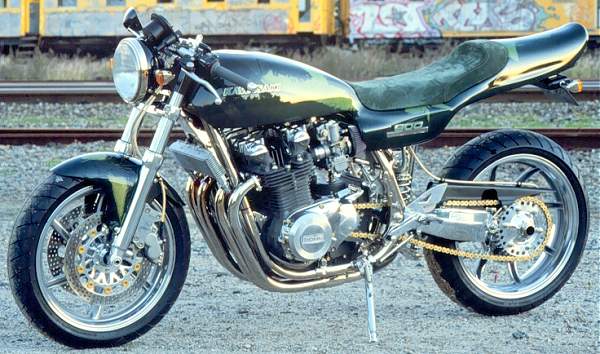 Click on the picture to go to their website.
This bike was done by Rick McDowell out of Australia
-MOTOR Z900 Kawasaki with Wiseco 1045cc kit, APE stainless steel valves , Ivan Tighe 340c cams, standard valves, 34mm GSX-R Mikuni carbies on Z1000J inlet manifold.
-IGNITION Boyer electronic
-EXHAUST Custom stainless with Roo Racing carbon fibre mufflers
-CLUTCH Barnett kevlar
-GEARBOX Standard Z900 Kawasaki
-CHASSIS Z900 Kawasaki heavily braced & gussetted, all original welds re-done,completely de-dagged
-FRONT END 43mm GSX-R Suzuki forks, Honda NSR wheel
-CBR 400RR discs
-YamahaFZR1000 callipers mounted on custom caliper mounts.
-Goodridge Kevlar brake lines
-REAR END Honda NSR single sided swingarm
-Suzuki RGV 250cc Shock absorber
-Honda VFR 400 rear brake
-TOP END Suzuki GSX-R triple clamps
-Suzuki GSX-R clip-ons
-Custom instrument plate with digital speed & Suzuki GSX-R tacho
-BODYWORK One-piece carbon fibre with self supporting seat and fuel tank
-COSMETICS Nickel plated chassis
-Extensive chroming & polishing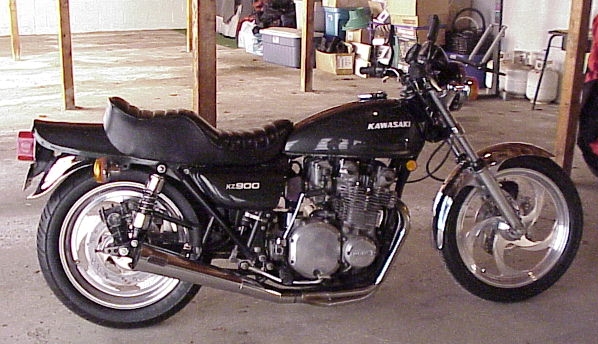 This is erics bike and its a '76 KZ 900 raked, lowered,piped and a set of RC Components Harley rims and he had to machine parts to hang them but that is just the beginning he said he is starting on the engine next and i can't wait for that.





Click on the picture to go to their website.

This bike is done by Streetfighters USA out of San Francisco.
ENGINE Kawasaki KZ900 bored out to 1075, Wiseco pistons, gasflowed cylinder head, oversized radias valves, Barnett heavy duty clutch ,CR race carbs 36mm , Micron headers and can carbon fibre, Goodridge oil cooler and steel braided lines.

FRAME KAWASAKI braced with a Kosman bracing kit.

FRONT END Kawasaki ZX7 USD forks and yokes, GSXR 1100 wheel and six pot calipers, Galfer braided lines, ZX7 mastercylinder with remote resevoir, motorcross bars.

BODYWORK KZ900 tank, tailpiece, sidepanels and front light. Rear light was kindly donated by a dead Honda Magna.
REAR END GSXR750 swing arm wheel and brake assembly-frame modified to accept mono shock.
ELECTRICS KZ900 harness heavily modified. Dyna coils, Z9 switchgear and clocks.
PAINT British racing green with two white stripes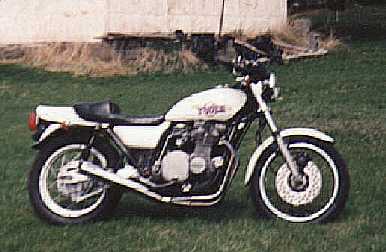 Pictured here is a 1976 Kawasaki KZ 900. Owned by a Marty? from upstate New York. Here are the Modifications he has done to his bike: 1200 cc bored, ported heads, cams and valves, i am not sure on the compression, the bike USED to have a turbo on it. Mikuni constant velocity carbs, jetted but could use a notch higher, K&N filters, vance & hines headers, hi output coils and wires, i think dynacoil (cause theyre blue), aluminum swing arm, extended approx 2 inches, DID alum 18" rear wheel, steering damper, dual front disks, modified somehow, (look at the position of the calipers, theyre in front of the forks!) that pretty much covers it i think, well the seat was custom made.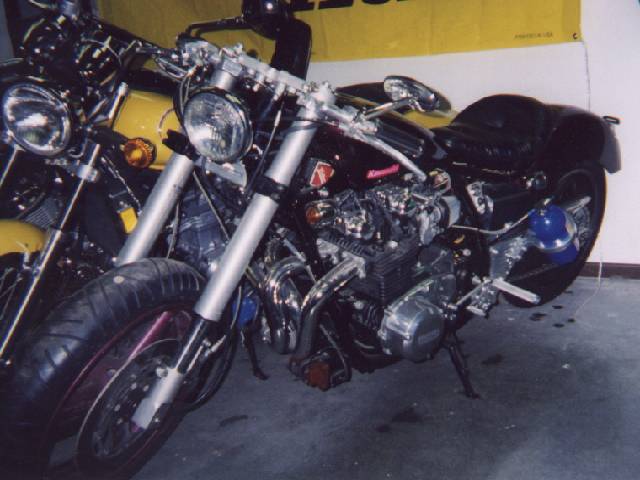 '78 KZ1000 motor, GPZ cradle, GSXR suspension front and rear, dual belt-driven magneto ignition, nitrous, and set up for a supercharger (not installed).
This was built by Motorcycle Performance and it's for sale.